Farmers raise money, share knowledge in global group
OTTAWA, Ill. — Midwest farmers and church-goers have found a way to make harvest festivals, bike rides, auctions and good crop yields here raise money for projects that help people overseas fight hunger.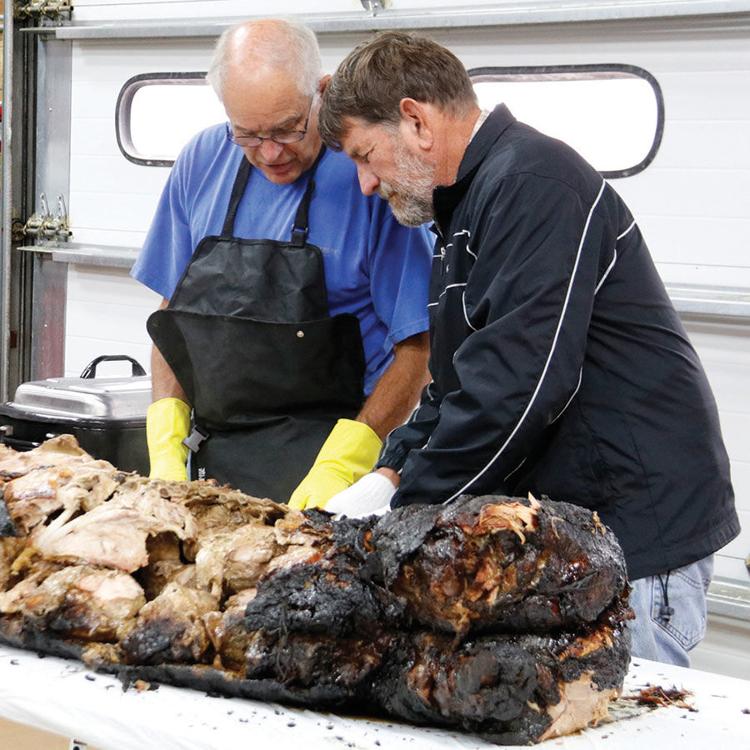 Dean Lundeen (left) and another volunteer prepare the hog for the Harvest Celebration dinner in Ottawa, Ill.Photo courtesy Kevin Nelson
This year, the Growing Hope Globally project in Ottawa, Illinois, raised $12,500. The harvest celebration, held on a farm this fall, included the work of 28 church groups and community members to put on a family fun day. Activities included watching combines at work, playing in corn kernel sandboxes and taking part in a variety of rural activities.
"It's like a family reunion," said Jerry Lundeen, a member of the Globally Growing Hope board of directors.
At a pie auction that was part of the Ottawa fundraiser, some pies sold for as much as $5,000 for an organization that runs with mostly volunteers and small administration costs.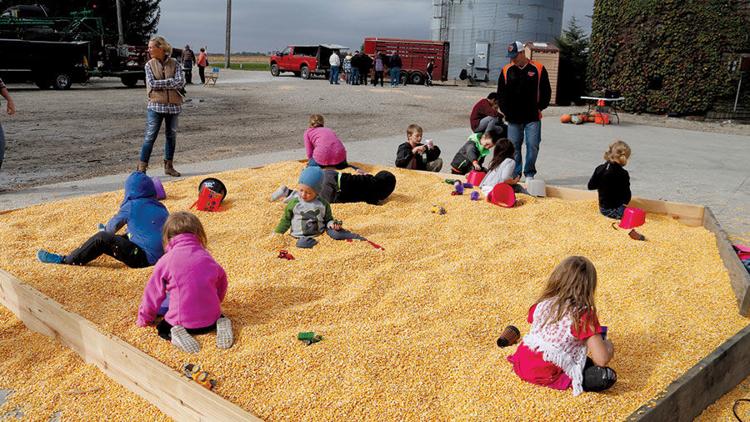 Activities at the Harvest Celebration dinner included watching combines at work, playing in corn kernel sandboxes and taking part in a variety of rural activities. Photo courtesy of Kevin Nelson.
That money is combined with money raised by crop donations and other fundraisers. More than $1 million has been raised by a trio of Growing Hope groups in Ottawa, Earlville and Somonauk in the last 15 years.
It all makes Kevin Nelson smile because the Illinois agronomist has seen personally what that money provides in training and resources for people in countries like Nicaragua.
Nelson looks like Santa Claus when his eyes twinkle while talking about Marta, a Nicaraguan farmer he visited during trips in 2014 and 2017. He intends to visit again in 2019. Like Marta, many of the farmers in developing countries are women, Nelson said. They learn — and then model for the community — good farming practices, he said. Most of the people make less than a dollar a day.
"It was completely life changing," he said of working with the farmers in Nicaragua.
The organization, founded in 1999, was originally known as Foods Resource Bank, but he said the group wasted too much time explaining what it was not.
"The new name more clearly reflects what we do," he said.
Through "growing projects," U.S. farmers, with their churches and surrounding communities, raise money and awareness to tackle world hunger, he said. Many fundraisers are rooted in agriculture, including donated profits from crops. Other projects center around events like the harvest celebration, bike rides and 5K races. These projects across the U.S. contribute close to 70 percent of the funding for the groups' work and have made a difference in more than 1.6 million people's lives, Nelson said.
It seems natural for farmers to help.
"Seventy percent of world hunger is in rural areas," Nelson said.
Currently, Iowa has the most ongoing projects among 20 states participating, with 25 projects. Illinois has 23 projects and Missouri has 10, according to the organization's website www.growinghopeglobally.org.
The funds and resources may help supply water to 80 homes; reforest eucalyptus trees in east Africa; improve production of cassava, a root vegetable grown in South American and Africa; or introduce a diversity of vegetables in Peru, Nelson said, listing a few overseas programs.
He has been involved since a friend at NRCS introduced him to the organization in 2004.
Many of the projects include water accessibly, said Lundeen who grew up on a farm near Somonauk, Illinois, and worked in agri-business and banking throughout his career. A typical overseas program includes education, conservation and diversification of crops.
Some are quite specific. Lundeen gives an example of efforts in Peru, where families often raise guinea pigs for meat. They keep the animals in their dirt-floored homes, which can spread disease to pots and pans in the home. Volunteers help with building pot racks to get the pots up off the floor, and educate residents about caring for the animals.
Only $55 through the program can help improve nutrition and reduce hunger for a person for three to five years, Lundeen said.
"It's incredible that a small amount of money can make such a long-lasting difference in someone's life," he said.
Nelson said it is a pleasure to work with the people overseas.
"They love to show us what they do," he said. "They pray for us and think of our needs. They may be living in poverty, but they are not poor."
SOURCE: Illinois Farmer Today